What are Progressive Web Apps (PWA) and how can this technology be leveraged by online video services to optimize the quality of experience of their viewers? In this blog post you will read about the optimization THEOplayer was able to accomplish by reducing startup time of online videos and improve the viewer experience by making use of PWA in combination with THEOplayer. Know more about our POC with Google PWA. It was presented during Google I/O conference at NAB Las Vegas 2017.
Challenges of modern-day viewer experience
A study conducted by Conviva indicates that roughly 27% of the online video viewers experience buffering, 43% have a low-quality video and about 5% of videos never start playing. Another study conducted by Akamai revealed that viewers abandon a video if it takes more than 2 seconds to startup. Viewers leaving your online video service may never come back.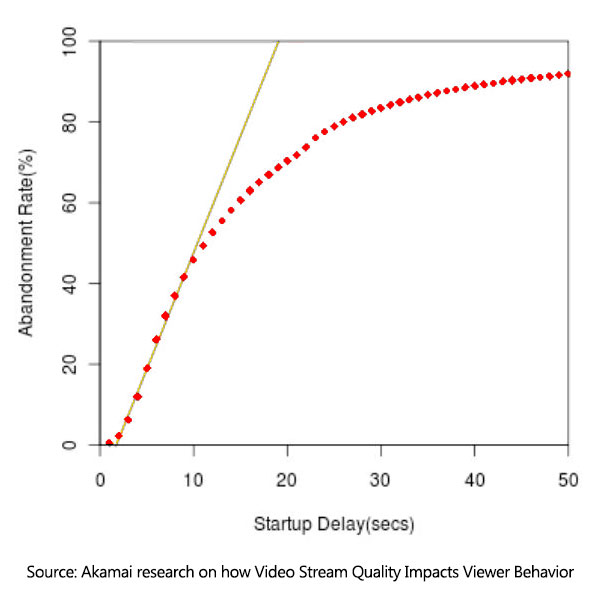 What are Progressive Web Apps (PWA)
In the past, native mobile apps, mobile web apps or a mixture of the two were the only shortcuts to the internet on mobile devices. Native mobile apps deliver a fast and rich user experience by taking advantage of the device features, but at the expense of storage space and lack of real-time updates. Mobile web apps are websites pinned to the home screen for easy access without pre-installing, but are highly dependent on internet access, which can result in an unreliable or poor user experience when internet access is unstable. To combine the best of these two worlds, Progressive Web Apps were introduced.
Progressive Web Apps are technically regular web pages but can appear to the user like traditional native mobile applications. This new application type attempts to combine features supported by modern browsers with the benefits of mobile experience. The most interesting new technologies included in Progressive Web Apps are Service Workers and Web App Manifests:
A Service Worker is a script which can run in the background, synchronize data and perform other actions usually linked to native applications such as pushing notifications.
Web App Manifests on the other hand allow to configure information such as icons, titles, authors and other information which can enrich the user experience.
Using Progressive Web Apps to improve video experience
With Service Workers, applications can synchronize video data in the background. This can be leveraged to anticipate which videos will be played and preload these videos. As a result, viewer experience can be hugely enhanced:
Startup times of video can be reduced significantly, bringing them to fractions of seconds, giving the impression video starts immediately.
Buffering can be avoided as buffers can be bigger, removing the negative impact of network instability.
Video playback can start instantly at high quality.
The result of these improvements is not to be ignored: it dramatically reduces abandonment and increases repeat viewership and user engagement.
THEOplayer and Progressive Web Apps: Remove the startup time for your videos completely
THEOplayer worked together with Google on using Progressive Web App technologies to improve the video experience of one of its Tier 1 customers. By leveraging PWA technologies in combination with our video technology, we managed to almost completely remove the startup time of videos on their website.
By leveraging PWA we were able to bring back the average startup time of a 4K video significantly. In our experiment, we set up a player which would be forced to start playback of a high quality, 4k video stream. This experiment was repeated in two scenarios:
Scenario 1

: The first test case made use of THEOplayer including PWA optimizations.

Scenario 2

: The second test case made use of a regular video player.
The result of the comparison is quite baffling. Where the player without PWA would have a startup time of about 3 seconds for the 4K video, the usage of PWA technology combined with THEOplayer reduces this time to 100 milliseconds, meaning a reduction of the startup time with a factor 30!
The first results of this project were demonstrated at Google's booth during the NAB Show and presented during a session on the Google's I/O conference on the future of video on the web. Have a look at the video below to show a demo of the positive impact on the viewer experience as it was demonstrated during Google I/O.
Improve the video experience of your online video service with PWA and THEOplayer
If you want to know more on how to improve the quality of experience of your viewers and reduce the startup time of your videos online by making use of THEOplayer and Progressive Web App technologies, don't hesitate to contact our team.