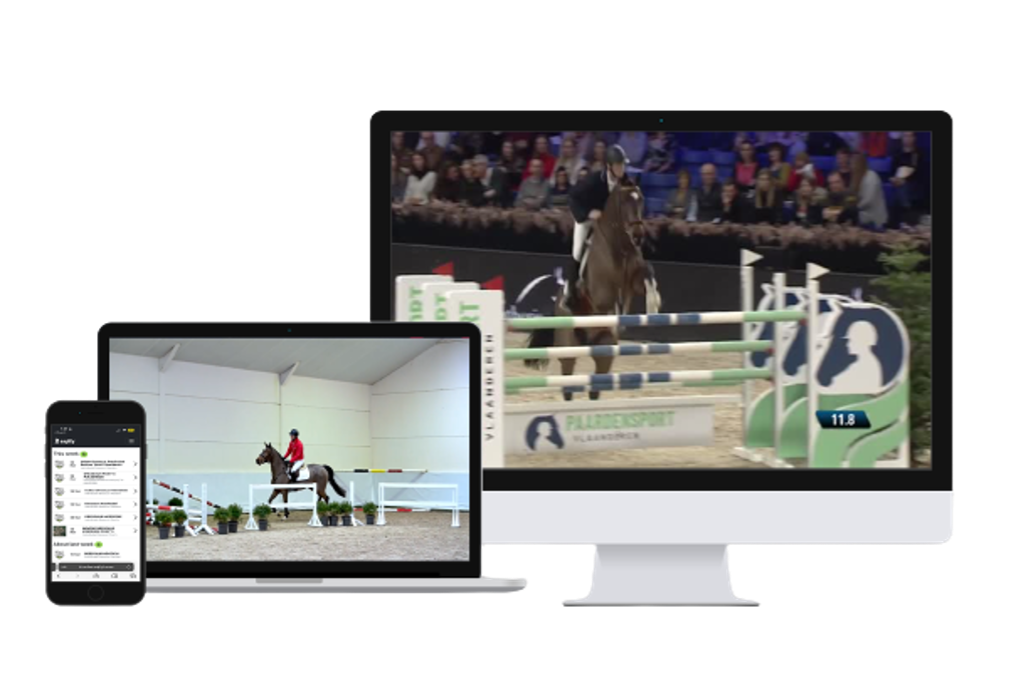 Customer Story
From auctions to jumping: How Eqify is using THEOlive to deliver top-quality real-time streaming experiences
At a Glance
Eqify is an innovative company that brings technology to the equestrian industry. Their offering includes show jumping, dressage, eventing and free jump. Through http://online.eqify.horse more than 500 competitions can be followed. Eqify has an extensive set of apps that are used during competitions by the officials, such as timekeeping solution for show jumping, digital judging for dressage, judging for free-jump, etc. The Eqify platform currently onboards more than 25k members, 1M horses and 500 clubs, and it provides features such as member, club & horse management, financial handling, competition, registrations and championships.

Eqify also specializes in live streaming of equestrian competitions and auctions, for which they require real-time video streaming, to make sure that the online biddings are recorded on time for the auctioneer to be able to take them into account.
Belgium
Industry:
Auctioning and Live Event Streaming
THEO product:
THEOlive
Customer since:
2022
Website:
https://www.eqify.horse/
The Challenge
Eqify does live streaming for equestrian events, as well as hybrid auctions. Their setup includes a minimum of three camera feeds which are combined with titles, live bid, pre-recorded videos, and animations such as fireworks, applause and congrats.

As live auctions require interactivity, real-time streaming is a must. Eqify has leveraged multiple webRTC solutions in the past, but these each brought limitations. A first webRTC solution had challenges with scaling to more than 100 viewers. Events typically include between 150 and 1000 viewers, so Eqify needed to scale the number of viewers further. They subsequently moved to an end-to-end cloud based webRTC solution. Although it was easier to use, they still found that the solution struggled to support all their needs. For example, some mobile users were experiencing black screens when the video was loading. The webRTC solution was also lacking viewer analytics, which made it difficult to troubleshoot viewer complaints, and to review overall event performance.
The Solution
In 2022, Eqify got in contact with the THEO team, and it only took "two or three events for us to decide to go for it!", says Joris De Veirman, Founder at Eqify.

As THEOlive leverages the High Efficiency Streaming Protocol (HESP), it scales over a CDN rather than adding more server instances to the backend, and it hence enables Eqify to stream real-time to any audience size. This way, Eqify can easily reach viewers worldwide, including Europe, North America, Canada, Mexico and China, without compromising on video quality.

Also, with the webRTC solutions the quality was set to 720p as single quality; but upon shifting to THEOlive, they now have adaptive bitrate (ABR) capabilities. "When a viewer is on 3G, then single bitrate streaming at 720p does not work", said Joris. The THEOlive ABR capabilities allow Eqify to stream real-time at 1080p, providing for a better quality of experience for viewers with high bandwidth capabilities, while simultaneously delivering lower resolutions/bitrates to viewers with low bandwidth capabilities.

Additionally, thanks to THEOlive, the team at Eqify is now able to analyze viewer insights of their real-time streaming events.
The Results
Integrating THEOlive into Eqify's platform resulted in the following key benefits:
Scalability: As THEOlive scales over a standard CDN, with global points-of-presence, Eqify can easily reach any audience size worldwide.
High Quality of Experience: Bidders often join auctions via phone, and network conditions can hence vary. Thanks to the HESP-based streaming with THEOlive, Eqify can bring a higher quality of experience to their viewers worldwide, including ABR, to easily adapt resolution/bit rate to changing network conditions.
Device Coverage: For the live auctions some viewers tend to watch on their phone and bid via a desktop. Having a seamless latency experience between mobile and desktop is hence imperative for the success of the auction. With THEOlive viewers watching real-time streams of horse jumping events or live auctions can seamlessly do this on any device, including on older phone models.
Viewer Insights: With the integration of THEOlive, Eqify is now able to monitor viewer analytics of their real-time streams including latency, which devices people stream on, where they are located, and other demographic information.This allows Eqify to easily troubleshoot, and to evaluate event performance.
Seamless Integration and Support: Integrating THEOlive into the Eqify platform was very easy and straightforward thanks to the API first approach. "It took no time to integrate" says Joris De Veirman. It was also very easy for Eqify to get started with ingesting RTMP through Vmix thanks to the guides included in the THEOlive developer hub, and the proactive support from the THEO team.
"Since making the shift to THEOlive, our partnership with THEO has been nothing short of fruitful! It was not only easy to integrate, but it also brought us extra value as we can now reach more viewers, and provide them with a better quality of experience at the same time. Also, the support we got from the THEO team was excellent!"
Joris De Veirman
Founder of Eqify
About Eqify
Eqify is a software solutions provider that aims to enhance technology and data analysis in the equestrian industry. Their main offering is an online platform that allows riders and trainers to track their horses' performance and training progress using a scoring system developed by Eqify. This platform also offers features such as compiling results, building rankings, managing memberships, and generating invoices, serving as an ERP for equestrian sports.

Eqify also provides a management system that specializes in back-office and competition-related tasks, including tools that accurately measure and capture results in time-sensitive competitions. Their solutions also enable easy integration with different scoreboard styles for streamlined operations. Additionally, they offer a breeding service that supports horse breeding for show purposes using their expertise and knowledge.

All in all, Eqify has made significant strides in improving the equestrian industry in Belgium, particularly in the areas of streaming, auctioning, and overall quality. Eqify is an innovative company dedicated to bringing technology to the equestrian industry.
Let's talk about your use case!
Need help with your video playback projects? Our video experts are ready to help!