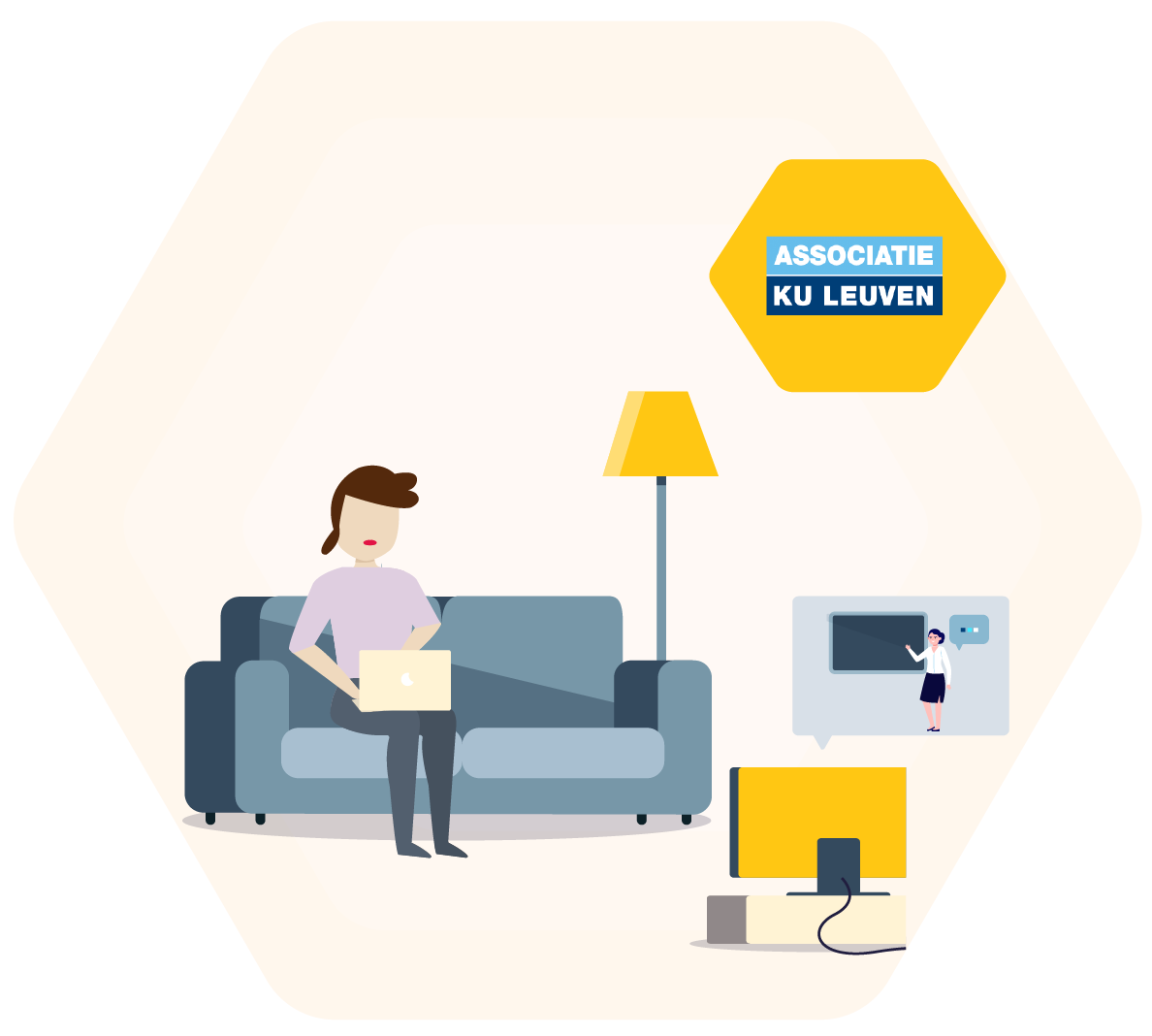 Customer story
THEOplayer empowers KU Leuven's increasing need for remote teaching during the pandemic
At a glance
Katholieke Universiteit Leuven (KU Leuven) is one of the largest, leading European universities that combine a long tradition of ground-breaking research with a high-quality education in 14 campuses, spread across 10 cities in Flanders. COVID-19 accelerated their move towards HyFlex education; a combination of fully online & hybrid teaching, both synchronous and asynchronous was implemented at a large scale over the course of a few months.
Headquarters:
Leuven, Belgium
Industry:
Higher Education / University
THEO SDK:
HTML5 SDK, Chromecast SDK
Integrated Partners:
Wowza Streaming Engine
Customer since:
2020
Website:
www.kuleuven.be

The challenge
The unprecedented health crisis caused by the spread of the COVID-19 virus has put a strain on many education institutions. As the lockdown measures were put in place, schools and universities alike had to quickly move from traditional in-person learning to remote teaching over the internet. A shift that can arguably be quite lengthy as it is riddled with complexities.
"When the first lockdown happened, all hands were on deck to allow students and researchers to continue their activities through the internet. A lot of classrooms and lecture halls were already equipped with web lecture devices, and at a fast pace the rest was installed by the start of the first hybrid academic year. This allowed us to move quick and focus mainly on the distribution side of the live lectures,"
Head of ICT Facilities for Educatio
KU Leuven University
As they launched and scaled their livestreaming platform for remote teaching, KU Leuven realised that their setup required too much CPU. They turned to server caching to allow for lower processing overhead.
"Unfortunately, this move didn't go as smoothly as we hoped for. Although it allowed us to scale better, we kept on receiving reports from students that the stream wouldn't start. Many of the cached playlist files seemed to be incomplete and couldn't be interpreted correctly by our former video player. As we were constrained to the academic calendar year, we had to move fast in ensuring our students can playback the streams 100% of the time,"
Head of ICT Facilities for Educatio
KU Leuven University
The solution
KU Leuven relies on the THEOplayer HTML5 SDK since 2020. Upon the decision, the university managed to seamlessly integrate the solution into their infrastructure, solve the corrupted playlist problem and provide a reliable remote learning experience for their students. KU Leuven also chose the THEOplayer Chromecast SDK for casting courses to a TV screen.
"Upon further investigation, we found out that our former video player could only interpret playlist files that meet very specific requirements. So we needed to find a video player that is flexible and smart enough to acknowledge the files. Our middleware partner at Wowza recommended the THEOplayer HTML5 SDK. This recommendation along with its familiar name and geographical proximity made it very easy for us to decide in their favor,"
Head of ICT Facilities for Educatio
KU Leuven University
The result
Reliable viewing experience: The use of THEOplayer HTML5 SDK on KU Leuven's learning platform solved the problem they faced almost immediately. "Once implemented, the playback problem was instantly solved. And most excitingly: our students can now cast their lectures to the TV through the Chromecasting feature available out of the box," says Wim.
Your video technology partner: "The technical documentation was very comprehensive; in fact, the whole set-up process did not take more than a day. When we need help, the THEO support team always responds in a timely manner and with the right answer," says Wim. "The use of THEOplayer in our platform and our interactions with the THEO team broadened our horizons for other capabilities to improve the quality of our HyFlex learning experience, and it increases the interaction between researchers, students and teachers. We are particularly excited about the low latency capabilities that THEOplayer offers which will give us the ability to provide more interactive learning experiences in the near future," Wim concluded.
"THEO helped us overcome a technical hurdle very specific to our setup. Their documentation is extremely accessible and we also never experienced that level of technical support before. Thanks to the fast implementation of the THEOplayer, students could cast their courses to their TV in a matter of days. We look forward to working with them on low latency streaming."
Head of ICT Facilities for Educatio
KU Leuven University
About KU LEUVEN
Founded in 1425, KU Leuven has been a centre of learning for almost six centuries. Today, it is Belgium's highest-ranked university as well as one of the oldest and most renowned universities in Europe. As a leading European research university and co-founder of the League of European Research Universities (LERU), KU Leuven offers a wide variety of programs in English.
These programs are supported by high-quality interdisciplinary research carried out at both the university and its internationally acclaimed hospitals. Boasting an outstanding central location in the heart of Europe, KU Leuven offers a truly international experience, high-quality education, world-class research, and cutting-edge innovation.
Lets talk about your use case!
Need help with your video playback projects? Our video experts are ready to help!