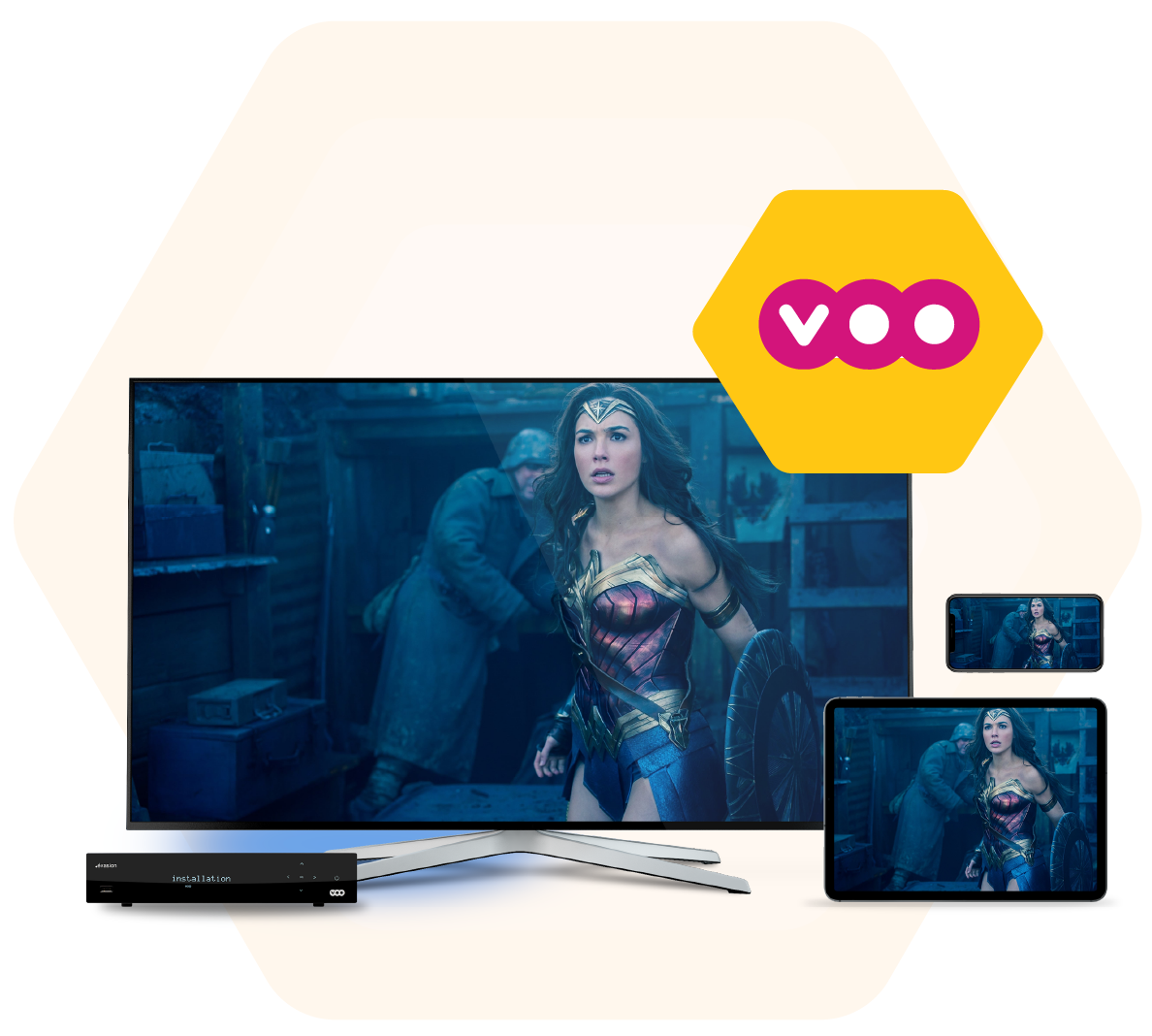 Customer story
VOO uses THEOplayer to shift from Flash to DASH and cross-platform video playback
At a glance
VOO is a provider of TV, internet, fixed and mobile telephony for the French-speaking part of Belgium. They are often seen as the Walloon counterpart of Telenet and they can be found on the intersection between generosity and price. VOO has over 700,000 active set-top boxes, but it demonstrates the Belgian down-to-earthness by considering cutting the cord.
Headquarters:
Liège, Belgium
Industry:
Telecommunications - cable operator
THEO SDKs:
HTML5 SDK, Android SDK, iOS SDK, Chromecast Receiver
Integrated Partners:
NPAW Youbora, Synamedia, Broadpeak, Tapptic/Riplee
Customer since:
2017
Website:
www.voo.be

"We met THEO Technologies in our search for a video player when Adobe announced to discontinue its Flash player and Access DRM,"
Head of TV Engineering and Operation
VOO
The company relied fully on Adobe for their streaming services and enjoyed the extensive service agreement, but they had to look for a different video playback solution in 2017.
So Bert and his colleagues looked for solutions at different broadcasting trade shows like IBC, NAB and Streaming Media. They kept running into the same suppliers and dug into the possibilities and pricing, the technical knowhow of the teams and the maturity of the video players. After the research VOO decided to do a POC with the THEOplayer.
"At the beginning of the POC we focused on a web solution, but we were also looking for a partner that could support our strategic ambitions in the (near) future. THEO was still growing its cross-platform video playback solutions in 2017, making our commitment process even more thorough. Having said that, during our discussions and understanding their growth path, we were convinced by their expertise, proven product and the solid drive for innovation."
Head of TV Engineering and Operation
VOO
The solution
As from 2017, VOO has been continuously innovating their online video services with the support of THEO. Our collaboration started with the basic HTML5 SDK for web, continued by the integration of THEOplayer on our mobile platforms (Android and iOS). Today THEOplayer is integrated in all our OTT service platforms, from the HTML5 SDK to the Chromecast Receiver.
"If you look for the right balance between generosity and price, you'll find it at THEOplayer (and VOO)!"
Head of TV Engineering and Operation
VOO
The result
The solution is two-folded:
A video player that is continuously showing the new capabilities for us to strengthen our services and our customer's viewing experiences.
Support: we were aware of the growing complexity of the video playback technology and that substantial internal focus was necessary to keep up with the technology in order to remain a leading service provider in our market.
Our video playback team consists of a handful of experts, so we knew that this technology needed to be provided by bright people who are continuously thriving on disrupting the video playback capabilities. After upgrading to the Premier Support Plan, we received a dedicated THEOplayer Technical Project Manager and Solution Architect. Syncing now at least weekly in a call and having the THEOplayer experts available on a mutual Slack channel, we must say that level of support is outstanding," concludes Bert De Flou.
About VOO
VOO is a full-service mobile, broadband and tv-operator that targets the southern part of Belgium. The company can be seen as the Walloon counterpart of Telenet, and their USP is the balance between generosity and price. It is the direct competitor of Proximus and Scarlet.

VOO is the commercial brand name of the MSO (Multiple System Operator) services operated by Nethys and Brutélé in 2006. They provide TV, internet, fixed telephony and mobile telephony services to its residential and B2B via its HFC (Hybrid Fibre-Coax) and mobile network. It can also provide those services over fiber for B2B customers. You might know some of VOO's flagship products: VOO TV+, Zuny and Be TV Go.
Let's talk about your use case!
Need help with your video playback projects? Our video experts are ready to help!