Closed captions and subtitles with THEOplayer
THEOplayer supports WebVTT subtitles and closed captions both via the <track> element on the website for VOD streaming and embedded WEBVTT subtitles directly in the HLS manifest.
Alternatively, THEOplayer offers CEA-608/708 captions that are automatically detected when they are present in the stream.
THEOplayer supports also TTML, SMPTE-tt and DVB subtitles.
---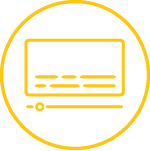 Support for Live and On-Demand Media
Never let your viewers be left in the dark again. Synchronize your subtitles and closed captions accurately by using the WebVTT format, which is the standard format for subtitles on the web.
---
Back to overview