With the recent Hacking Team hack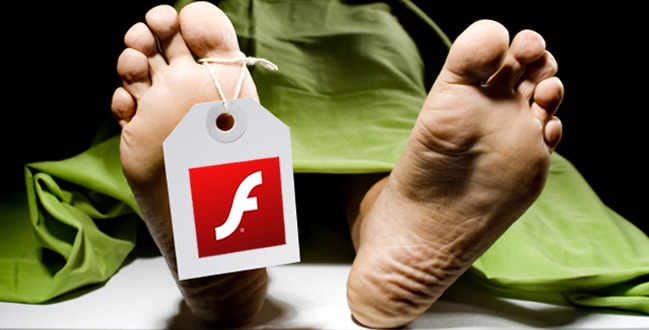 , during which at least two 0-day Adobe Flash exploits have been released in the wild, trust in Adobe Flash is at an all-time low. Two 0-day exploits got released in the wild, but the question remains how many more are still left uncovered and available to the select few. Can Adobe Flash really be trusted?
One of the more outspoken actions following the Hacking Team hack was Mozilla's decision to temporarily disable the Adobe Flash plug-in in Firefox in order to protect their users. Other companies around the world are openly speaking out against Adobe Flash as well, with Google stating Chrome will soon intelligently block Flash on web pages due to CPU and battery drain and Facebook's Chief Security Officer Alex Stamos publicly stating over Twitter that Flash should disappear completely from the web in the coming years.
The impact of such a move should not be underestimated. A lot of websites around the world are not prepared for the impending end of Flash. However, there are alternatives today. While in the past it was difficult to do stunning animations, rich user interaction or playback of media like audio and video without plugins such as Adobe Flash or Microsoft Silverlight, HTML5 now allows developers to replicate this functionality without having to rely on what has increasingly become insecure and inefficient plug-ins.
The World Wide Web is moving away from Adobe Flash and according to us at THEOplayer it is time for video publishers to follow suit and move on as well.
The current status of Adobe Flash
When we look at mobile platforms, today they no longer have support for browser plugins like Adobe Flash or Microsoft Silverlight – stating they drain the battery too much. The arrival of HTML5 has brought a trend along with it, away from browser plugins and towards HTML5. Seeing the rise in importance of mobile platforms, more and more companies are focusing on providing HTML5 alternatives. It is a matter of time until desktop browsers follow suit, permanently disabling the plug-in.
When we look at the web today, Adobe Flash mainly serves a very specific role:
Support for legacy applications.
Older browser games.
Video streaming.
When we look at the fate of legacy applications developed in Adobe Flash, we believe that, just like with ActiveX, eventually the cost of maintaining these applications will become too high, resulting in them being discontinued or replaced by HTML5 and JavaScript alternatives.
Due to the lack of browser features, a couple years ago all web games were made with Adobe Flash. However, with the arrival of HTML5 developers got the ability to do rich user interaction and animations straight from the browser. Especially with the rise in importance of mobile platforms as a game platform, today almost all web games get developed in HTML5 and JavaScript in order to reach those audiences as well.
Video publishers however are still left in the cold. With the arrival of HTML5, browsers got the ability to play media like audio or video files without any plugins. However, most browsers today only provide support for playback of MP4 files while the support for streaming formats like HTTP Live Streaming (HLS) or MPEG-DASH (DASH), used by the professional industry, natively in web browsers is minimal – forcing them to still rely on plug-ins like Adobe Flash or Microsoft Silverlight in order to fulfill this role. This is where THEOplayer comes in …
THEOplayer, video streaming without Adobe Flash
This is where THEOplayer comes in, a solution that allows online video publishers to bring their live, video-on-demand (VOD) or time-shifted (DVR) content directly to a wide range of HTML5 platforms without the need for third-party plugins like Adobe Flash or Microsoft Silverlight.
Being developed in HTML5 and JavaScript THEOplayer brings full support for the HTTP Live Streaming (HLS) streaming format to all popular platforms and devices such as Chrome, Internet Explorer, Firefox and Opera as well as all major mobile platforms including iOS, Android and Windows Phone. It fully removes the need for plug-ins such as Flash or Silverlight completely and dramatically simplifies distributing video content online.
Why still rely on insecure and inefficient plug-ins for your video streaming if there are alternatives? Why wait until it is too late and support for Adobe Flash gets dropped by major browsers? Get in contact today and see what we can do for you!
if you have more questions feel free to visit our contact page by clicking the button.