Bringing your content to the big screen: what is the most interesting bet?
by Mathias Craps on February 25, 2021
More people than ever now watch streams on their television screens. As a content provider, should you invest efforts on smart televisions, or on connected (casting) devices?
The Numbers
The market can be quantified using different metrics. In this article, we will focus on two independent sources: the Conviva Q3 2020 report, which reports platform share by actual media consumption time and the IHS Markit 2018-2023 market forecast, which focuses on the amount of devices per brand instead.
Time spent per device
According to the Conviva State of Streaming Q3 2020 report, globally, viewers spend 75% streaming time in front of a TV screen. In more precise numbers, this breaks down to: 50% connected devices, 15% smart TV applications and 10% gaming consoles (PlayStation and Xbox).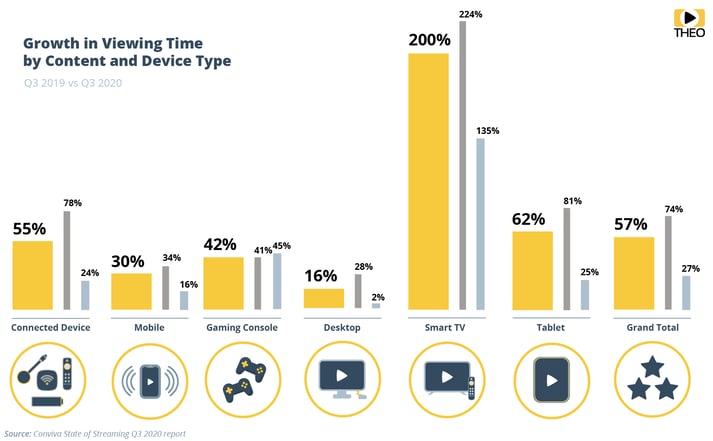 This is a big tick-up compared to Q3 year, when the numbers added up to 69%. The division was then 51% connected devices, 8% smart TVs and 10% gaming consoles. If you observe these numbers more closely, you might notice that smart TVs were the biggest winner. The global streaming market grew by a whopping 57% last year. Smart TVs outperformed every other category by showing a year-over-year growth of 200%.
What is the global subdivision of the connected devices? 48% roku, 28% Amazon Fire TV, 8.5% Apple TV, 6.8% Chromecast and 5.5% Android TV. Smart TVs can be split up by brand: Samsung Tizen dominates the market with 47%, LG TV follows with 22% and Vizio TV ends the podium with 13%. It is, however, vital to look at the differences across the world. In North America, for instance, connected devices count for 58% of the market, due to Roku's massive popularity. This skews the global overview, as the rest of the world is generally lower on the connected devices frontier: the average is around 20-30% with Asia even showing a market share as low as 6%. Roku is dominant in North America, but is slowly trying to get a foothold in the rest of the world. We expect their numbers to increase as Roku close a strategic deal with Hisense to bring out the first Roku-branded TV in the UK.
It is vital to understand that Conviva reports its numbers based on the actual time spent using a particular platform, instead of looking at the actual devices being sold. That's why we should also focus on what the market looks like today, but more importantly, tomorrow.
Forecast of the market
The IHS Markit TV paints a slightly different picture here. This study looks at the situation in 2018 and tries to predict the market in 2023. While the market strongly differs regionally (see graphic below), a few trends are visible: Android TV is expected to grow significantly and become first or second only to Samsung's Tizen. LG's WebOS is expected to lose market share. Roku will maintain its dominant position in North America with a slight growth, but will also gain its first single digits market share in the rest of the world.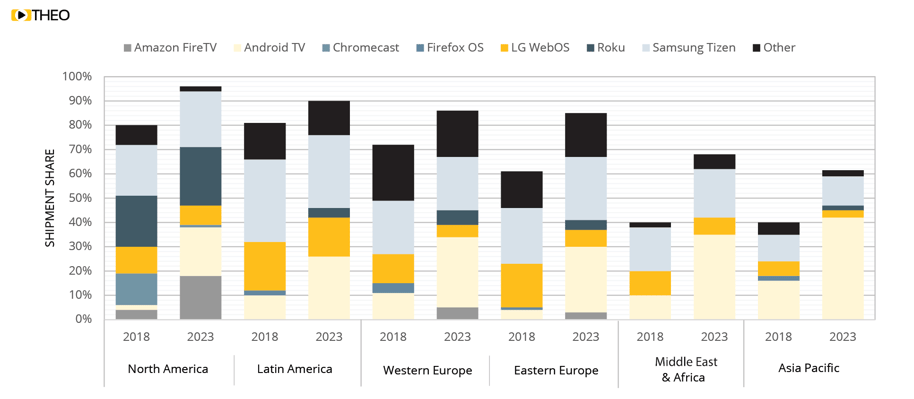 2018 & 2023 (Forecast) Regional Smart TV OS Share
(Adapted from: IHS Markit TV Sets Intelligence Service Premium, HbbTV Symposium 2019)
Based on the evolution of the market, we distinguish two key insights:
1. Smart televisions are picking up on connected devices
Televisions have come a long way from being passive content receivers as they became smarter the last decade. Now these devices can play content without the help of additional hardware like set top boxes and connected TV devices. Smart TVs open a new segment that used to be reserved for external devices.
Casting was in more recent years a popular way to get content to the big screen, but they are on the verge of being replaced by both dedicated smart TV applications and dedicated connected devices that have their own ecosystem. Hardware demand for casting solutions like Chromecast or AirPlay is expected to drop, as the same functionality is now being added to smart televisions directly.
There are generally speaking three scenarios where end-users may still be interested in buying dedicated hardware for pure casting platforms such as Chromecast or AirPlay:
The user doesn't want to upgrade their old television yet. Casting devices are more cost effective in such a case.
The smart TV does not include their preferred platform. Many smart TVs either support Chromecast or AirPlay, but not both of them. Buying extra hardware bridges this.
They fall in the early adopters category and prefer to buy the latest hardware directly, instead of buying a new smart TV.
The market is moving away from pure casting devices towards more integrated platforms. Smart TVs are growing quite significantly. Roku remains dominant. Chromecast is losing ground.
2. A move towards integrated platforms instead of casting sessions
Pure casting devices like Chromecast are losing ground, but what do devices such as Tizen, WebOS, Roku, FireTV, Android TV and Apple TV have in common? They combine ease of use of a remote control with end-to-end delivery of the content by providing their own ecosystem. This makes sense from a users perspective as well: would you rather start an episode directly on your smart television with your remote, or open a browser on your tablet, open a website, press play and then case? And then we don't even mention the extra step of using your tablet for seeking, pausing and resuming. Devices that operate using a remote are much more convenient in this regard. It is no wonder that Google is changing their Chromecast platform to ship a remote control and Android TV. The company follows the trends to stay current. Roku on the other hand is trying to gain market share in Europe by closing its first deal with Hisense
Let's talk tech: how to target devices
Let's take a look at commonly used technology stacks for each platform. Where can we find the most common ground to maximize the market share with as little code as possible?
Let's explore the technologies we recommend for each platform first:
Tizen, WebOS, Chromecast: HTML5
Android TV, Fire TV: Java
Roku: BrightScript
Apple TV: Swift / Objective C
By supporting a mix of connected devices (Roku, Fire TV, Android TV, Apple TV and Chromecast), you would need to write your business logic using all the four technologies listed. This greatly depends on your market: in Northern America, Roku holds half the market share for connected devices, whereas their share is much lower in the rest of the world.
For smart TVs, you can currently support both WebOS and Tizen by using only HTML5, which accounts for 70% of the views (according to Conviva). Vizio, the third biggest platform, can be targeted using HTML5 or Android. The runners-up are Android TV and FireTV, who complete the mix using Java. We recommend to include Android TV to your portfolio as the IHS Markit 2018-2023 expects Android TV to become a stronger player in the future.
Conclusion
When looking at market share, connected devices still have a bigger share of viewer time than Smart TVs. The global numbers are still overwhelming in favour of connected devices, but this depends on the regions. As North America is the biggest market, it influences the global picture. Supporting your audience via connected devices will require a mix of many technologies, whereas smart TVs can mostly be satisfied with a solid HTML5-based application. In the future, the smart TV market may be moving towards Android TV. Given the rapid growth of smart TVs, we expect smart TVs to slice market share from connected devices. Connected devices with a strong ecosystem such as Roku will remain dominant for the time being, so it is always smart to include an array of platforms in your mix. We strongly recommend to have a look at the needs for your market. Feel free to reach out to our experts to have a chat about how you can best strategise for your market.
Want to talk to us about our platform support? Contact our THEO experts.