The Canadian University of Manitoba and their staff and students have long time been struggling with their custom-made solutions for video streaming.

Moving to THEOplayer enabled them to stream all their live and on-demand content smoothly, facilitating processes for all university members.
Customer
The University of Manitoba is western Canada's first university. Founded more than 137 years ago and located in the heart of the country, it is the region's largest and only research-intensive university offering over 100 degrees, diplomas, and certificates: more than 60 on the undergraduate level including professional disciplines such as medicine, law, and engineering. The energetic university community is comprised of approximately 30,000 students, 8,700 faculty and staff members, and 190,000 alumni. Nearly 13 per cent of the current students are international, representing about 104 countries.
Challenges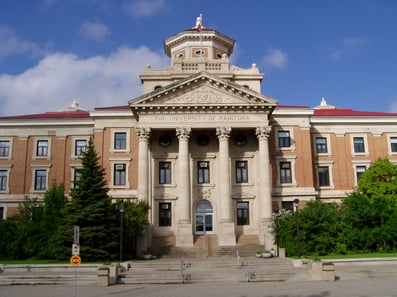 Six years ago, the University of Manitoba started using online video content on their website. At first, they only used Video-on-Demand content, but after a couple of years they started providing live video content, using the HTTP Live Streaming (HLS) protocol. They used custom-made solutions for Internet Explorer, a VLC-plug-in to support Chrome and Firefox, and Windows Media Video (WMV), which didn't work on iOS, according to Wayne Billing. While all Oss and browser platforms are used to watch UofM streaming content, more than 80% of the students being targeted for the course-content streaming were using Apple devices and as the Microsoft WMV wasn't moving forward, they started looking for a new solution.
The University of Manitoba needed a video partner with a full HTML5 player for HLS without forcing the viewer to first download a plug-in. They were thinking they were going the wrong way by trying JWplayer because of its FLASH dependencies. So, when the University first came across THEOplayer, they couldn't believe it was as easy as it is. Besides the fact that THEOplayer can guarantee HTTP Live Streaming playback, cross-platform and without anyplug-ins, it also reduced the 50 lines of HTML-code to only 2 lines using the THEOplayer-code.
In the beginning of June, the University of Manitoba will stream their full convocation using THEOplayer as their new solution. The convocation is the high profile event of the University; people will be able to follow the graduation live on their screen from all over the world.Besides the convocation, they also wanted to have live broadcasts of a monthly presentation, entitled "Visionaries", where the president of the University invites some scholars of other authorities to present on a specific topic. Finally, they want to use THEOplayer for the Biology department. Since January 2016, students are now able to stream biology-lectures live on their laptop or even on mobile.
We were very pleased with the level of support and the speed of support! Both of these aspects of the support organization have helped tremendously! - Wayne Billing, Information Services and Technology (IST), University of Manitoba.
How THEOplayer simplified processes
Support organization: The University found the migration from their previous method to THEOplayer very simple and easy to integrate. They have also been very pleased with the level and speed of support to get THEOplayer running. "Both of these aspects of the support organization helped tremendously", said Billing, Technology support for Audio, Visual, Computer and Network (IST).
Cross-platform support without plugins: THEOplayer helps students, professors and parents to access the video content on the website anywhere they want, without the need to install plug-ins. The University of Manitoba needs only one streaming protocol to stream their content on every browser to reach as many viewers as possible. It dramatically simplifies distributing video content online.
Video-Clipping: The THEOplayer 1.6 clipping-functionality allows publishers to easily create and share only the interesting bit with their viewers. According to Billing, this feature is saving a lot of work and is very useful to re-edit a video stream. For example, the live stream of the graduation is already accessible 30 minutes before the event really starts, to make clear that the viewer is on the right spot to see the live event. After the event is finished, the live stream is immediately available as a recorded VOD-stream on the website. Because of the new clipping-feature in THEOplayer 1.6 you can just add 1 line of HTML-code to remove the 30-minutes buffer.
There is not a nice editor available for HLS, so THEOplayers' clipping feature is very easy to re-edit a video stream and saves us a lot of work! – Wayne Billing, University of Manitoba.
Impact & Results
The University of Manitoba is very satisfied with their new HTTP Live Streaming-solution. "If you want to move to HLS or want to improve your HTTP Live Streaming, THEOplayer is the way to do it. It is very simplified and robust, which makes it an amazing solution for HLS!", mentioned Billing.
I couldn't believe it was as simple as it is to set up THEOplayer. It plays Live or VoD without any issues. - Wayne Billing.
You can contact our team if you have more doubts, or would you like better to test THEOplayer on your own?
---