THEOplayer counts on you! Being nominated for the Streaming Media Readers' Choice Awards, we look forward to seeing your vote for us.
You have time until the 26 September 2016 to give your say for us in the category: Video Player Solution / SDK
How does it work?
There is not much effort involved. The voting is already open and will close on 26 September 2016 at: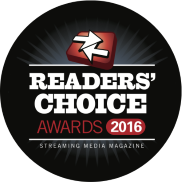 After the voting closes, you will receive an email to confirm your vote. Please keep in mind that only upon confirmation your vote for THEOplayer will be counted.
The winners will be announced on 2 November 2016 at Streaming Media West in Huntington Beach, California.
THEOplayer and the Award
We are particularly excited this year to be nominated for a huge honor of the online video industry, the Streaming Media Readers' Choice Awards. That's a great opportunity considering that the winners will be elected by you – that means all online video enthusiasts.
We cleaned our office shelves, so now it's your turn to help THEOplayer win and fill the empty space with the trophy.
---