Product Update: New THEOlive Features to Further Customize your Real-Time Streaming Needs
by Jenny Lou on April 26, 2023
This week, we are excited to announce the release of new features for THEOlive - the video API for high-quality real-time streaming at scale for sportsbooks, iGaming and interactive entertainment. These 4 new updates provide more flexibility, convenience and customization options.
1. Bitrate-based Pricing: Pay for What You Use
First, we're excited to introduce our new bitrate-based pricing. We understand that different real-time streaming use cases bring different video quality requirements. For example, live streaming of medical congresses typically requires a higher bitrate to make sure doctors see every detail of the surgery. The same is true for live sports streaming, where a higher bitrate and fps make sure you can clearly see every action of a fast-moving game. iGaming providers, on the other hand, often require lower bitrates, to save costs, as many of their users are streaming on smartphones in areas with lower bandwidth availability.

To cater for these diverse needs, we've updated the THEOlive streaming pricing by enabling you to select the bitrates that align with your requirements. The ingest price remains constant at $0.07/min/viewer, while the streaming price varies based on the maximum bitrate selected. Each maximum bitrate option brings a maximum resolution, fps and bitrate ladder.
Estimate your pricing with our calculator here. More information can be found in the Stream Configuration guide.
2. A More Flexible & Insightful Scheduler
The THEOlive scheduler has been upgraded to provide greater flexibility and insights for your live streaming needs. Not sure when your live stream will end? No problem! We've made it possible to schedule only the start time, with the end time setting being optional. Additionally, you can terminate the scheduler manually via the management console or API if needed.
Furthermore, for each scheduled event, you can get a scheduler report, including analytics such as unique viewers, minutes viewed, and geographic location. These insights offer valuable data for each specific event, enabling you to optimize your streaming strategy accordingly.
Moreover, we've introduced Client ID as an identifier to integrate THEOlive seamlessly with your own CMS. For example, in the context of live sport streaming, there might be multiple channels per sport event. With a unique Client ID for each sport event, all the data (scheduler data, report) for that event can be collected in a structured way. In addition, metadata labeling gives you even more flexibility in organizing and managing your streaming content.
Read our Scheduler guide to learn more.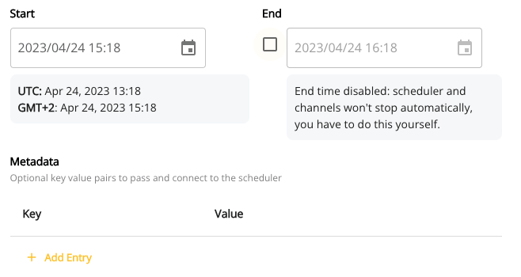 3. Advanced Geo-blocking
Don't want your content to be visible in certain countries? We've updated our geo-blocking features to include blacklisting of countries, in addition to our existing whitelisting option. This makes it straightforward to control from which countries users can access your content. Check out our Geo-blocking guide for more detailed information.

4. Seamless Failover
In addition to providing high-quality and reliable real-time streaming, we provide even more peace of mind through the ability to configure a failover mechanism, to make sure your viewers can continue watching your live stream in case of an ingest failure or connectivity problems. Our failover functionality makes sure that if one stream is unavailable for a short amount of time, the player checks if the failover/backup stream is available and switches the player source automatically to this stream.
Previously, you could already set up a failover at the channel level. With our latest updates, it is now possible to set the failover stream for each player alias, ensuring a seamless transition for viewers, maintaining the same look and feel and security settings, including geo restrictions and token security. Learn more about adding a failover in this guide.

Not a THEOlive client yet? Book a demo to see the full potential of THEOlive today!
Subscribe to news and product updates