Rolling out Roku: Why?
by Thijs Lowette on January 19, 2021
"Rolling out Roku: Why?" is the first part of a 3-part series. "Rolling out Roku: How?" can be found here. Immediately interested in rolling out Roku with THEOplayer? Have a look at our third insight of the series : "Rolling out Roku: THEOplayer".
Roku is a video streaming device. To watch content on your Roku, you plug a Roku Streaming Player in your TV - or use a Roku TV. You start the Roku platform and you navigate to your favourite streaming app. If your favourite app is not yet installed, you launch it through the Roku Channel Store.
But you are not a consumer. You have your own video library, and you are thinking of having your OTT app in the Roku Channel Store. You're not yet sure if Roku is worth the effort, and how you would approach this endeavour.

This 3-part series explains 1) why you want to distribute content through Roku, 2) how you get your OTT app in the channel store, and 3) what THEOplayer is doing with Roku.

In this first article we'll discuss the «Why» through three motivators:
Popularity
Roku is winning. When comparing this Netflix spin-off with its streaming stick competitors through Google Trends, it seems like Roku is doing well in the Streaming Wars.
Roku's popularity in the U.S. market according to Google Trends. Note that Roku is not distributed outside of the United States.
There's further evidence that Roku is conquering the American living room.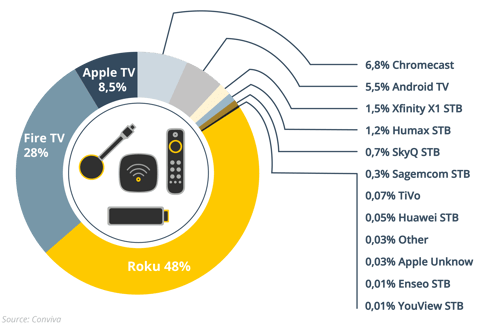 The usage of connected devices according to Conviva from July to September in 2020.
Roku's popularity and success seems undeniable, but there are some threats. Amazon claims that there are 50 million monthly FireTV users versus 46 million on Roku. Google is redoing their Chromecast strategy through Google TV. However, if you're targeting the living room in your OTT strategy, Roku should be a safe bet for years to come.
Deployability
Distributing your Roku Channel through the Roku Channel store can be easy breezy. Their Direct Publisher tool allows you to publish a channel with zero coding skills involved. There are caveats though, such as the lack of DRM and only limited styling options.
Anything beyond the basics requires you to build a custom Roku app.
If Roku is proving to be a handful, you can take it easier on yourself by pairing up with Roku developers or by using a Roku SDK. That being said, we do feel that Roku is making great strides in establishing a more accessible environment, for example with the recent addition of a video course.
Opportunity
There's the obvious market opportunity. By adding Roku to your list of supported devices, you extend your reach. You'll need to figure out whether your development and maintenance costs outweigh its profitability and the expectations of your viewers.
Roku offers a financial opportunity through different monetisation models, but they'll always take a piece of the pie.
Roku offers two advertising models, and you're given a trade-off between profitability and investment. This model is often referred to as AVOD, where video ads are served from an ad inventory.

The inventory split model requires you to fill 70% of the ad inventory with your own inventory, and you get to keep 100% of your 70%.
The revenue split model relies on Roku's own ad inventory, but you only get to keep 60% of the revenue. Roku refers to this model as the "Roku Sales Representation Program", and you need to be selected by Roku to qualify for this model.

Roku offers a payment framework through

Roku Pay

to handle subscription-based services (i.e. SVOD), but also one-off payments (i.e. TVOD).
Finally, there's also the interesting geographical opportunity. Roku is a big player in North America, but it's not well-known across the pond. Roku has teased that they'll be more aggressive in their international expansion in the next years. You might want to test the waters before you're caught in a current.
TL;DR
You should distribute your content through Roku if you're looking to acquire more viewers in the American living room. Launching a Roku channel is easy through Direct Publisher, but most likely you'll need to build a custom app (which can be difficult).
The next article in the series, "Rolling out Roku: How?", will explain how you build a Roku channel and get it in the Roku Channel Store. Subscribe to our newsletter if you want to be the first to know when this article is online.
Want to talk more about Roku, or our platform support? Contact our THEO experts.