THEOlive - The first HTTP-based Real-Time video API at Scale
by Bart Van Oosterhout on June 14, 2022
We have questioned our technology partners, clients and peers about their greatest video and streaming challenges and live low latency at scale was seen as the number one priority. Low latency solutions are in high demand, especially for online betting, auctioning, live sports, gaming, e-learning and virtual events, as it requires interactivity. Sub-second latency, or real-time streaming, is therefore a must.
But mastering real-time streaming at scale is not easy. While there is a trend in the industry to lower latency, many HTTP-based streaming solutions still bring latencies of multiple seconds. Non-HTTP-based streaming solutions can bring sub-second latency, but are complex and expensive to scale. That's where THEO steps in.
We're excited to announce that we're launching THEOlive, the first HTTP-based real-time streaming solution at scale. Leveraging the High Efficiency Streaming Protocol (HESP), it creates cost-efficient real-time and interactive live video experiences to any number of viewers.
Sub-Second
Latency

Real-time streaming service delivering an unmatched viewer experience.

High
Scalability

Streaming service to a virtually unlimited number of viewers.

Cost
Reduction

More efficient technologies used in the service.

Easy to Get
Started

To integrate as video delivery workflow in their applications.
How it works
THEOlive is designed to make real-time streaming at scale easy. It's an API first solution, which brings the video infrastructure of large media companies to any developer, so that they can easily embed real-time video at any scale in their applications.
THEOlive is an end-to-end cloud-based HESP solution and covers the full pipeline from RTMP(S) video ingest, encoding, packaging, and distribution over a global CDN, to high-quality video playback, to bring extensive scaling to any number of viewers worldwide.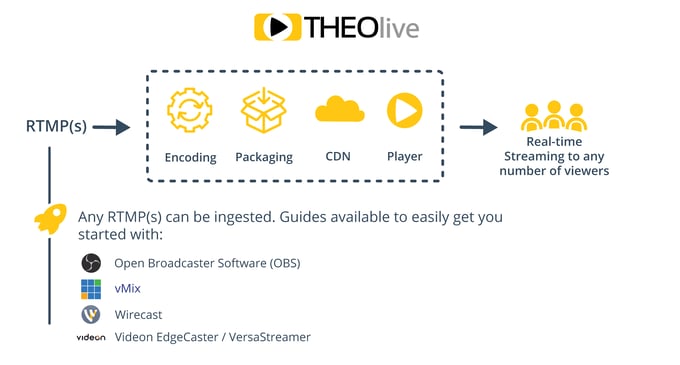 The below video further illustrates how to easily get started with real-time streaming at scale in minutes. Looking for further guidance? Our developer hub contains guides and an API reference to easily get you started!
"As a provider of corporate meetings & events for the last 25 years, we support our corporate and institutional customers in reaching their audience with a clear and empowered management message. To fill the gap during the pandemic, RemoteMeeting.fr as a "virtual'' live event solution platform, came up as the natural next step meeting evolution. To ensure our clients of our high standard delivering services, Remote Meeting requires technical and technological robustness that will provide them and all audience with a seamless experience to allow very high level and fluid interaction.
Thanks to the THEOlive high performance, the combination THEOlive with RemoteMeeting.fr is the best option on the market to gather and scale up smoothly and safely a large live audience. By using now THEOlive to host virtual corporate events from hundreds to several thousands of viewers makes our client live again. Our team is so happy to rely on a robust solution that is easy to configure and to use. The main benefit goes to our customers that are extremely satisfied with the experience and the level of interaction they get with their audience."
Erwan de LA PORTE du THEIL
Founder & General Manager
Le Monde en Direct