THEOplayer has been awarded with the Best of Show award by TVB Europe at IBC 2017. The awards honour innovation and outstanding product development. They are awarded by an independent panel of judges examining each nominated product throughout the course of the show.
Products were judged according a wide range of criteria, including ease of use/maintenance, performance against category standard, richness/relevance of the feature set, value/ROI, versatility, anticipated reliability and originality.
THEOplayer won the award together with V-Nova Ltd. for the PERSEUS-powered Universal Media Player. Only a few weeks ago we announced our partnership with V-Nova, so we are proud this product, combining both technologies, is already recognized for its quality by this award, says Steven Tielemans, CEO of THEOplayer.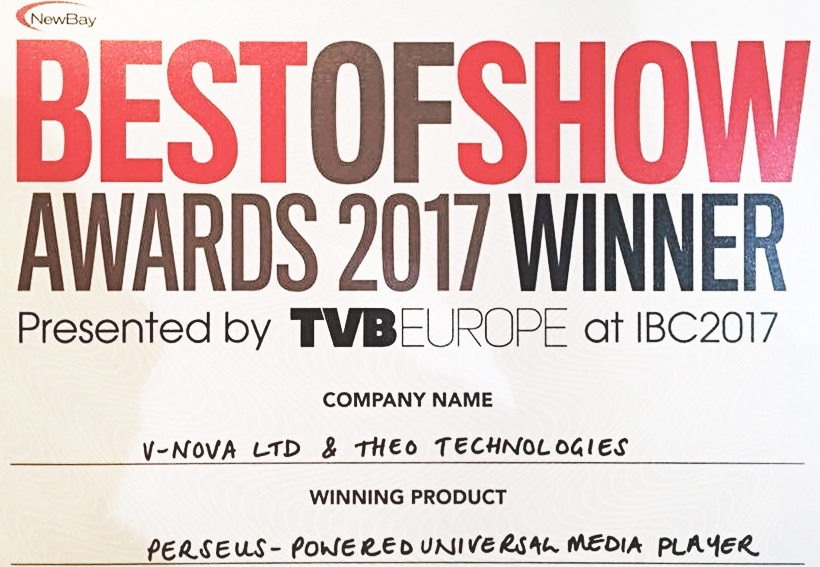 The joint solution combines the next-generation compression performance of V-Nova PERSEUS 2 with THEOplayer Universal Video Player's ability to consistently deliver the highest viewer experience across web and mobile web and its compatibility with all HTML5 online environments. For Operators and Service Providers this equates to the best possible user experience and picture quality, increased reach and retention, while at the same time minimising the costs of delivery and platform support.
Best Video Player/SDK
THEOplayer is also nominated in the Best Video Player/SDK awards by Streaming media. We already won the European award, but we would be happy with your vote on the world-wide award as well.