The 2019 Readers' Choice Award winners were announced yesterday during Streaming Media West in Los Angeles, California. The competition gathered more than 220 nominees across 28 categories and THEOplayer has been awarded Best Video Player Solution/SDK 2019 for the third year in a row.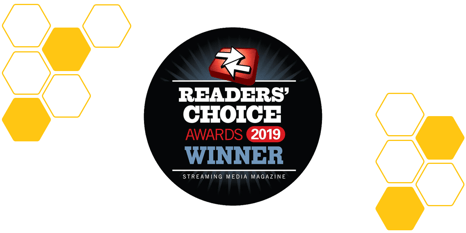 After winning the 2019 Europe Readers' Choice Award earlier this month for the fourth time in a row, THEOplayer has remained on top. Another great milestone which recognises our excellence in the online video industry.
We are honoured to be recognised as the first choice for Video Player Solution/ SDK, for three years running, by the Streaming Media Magazine readers. We would like to thank our team, partners and customers, who are the reason we keep working on developing the most advanced and innovative video player on the market, said Steven Tielemans, Founder and CEO of THEO Technologies.
THEOplayer is at the forefront of the player industry. We cover all industry segments and regions, and we are committed to being not just a vendor, but a solution life cycle partner. Our Universal Player Solution provides a single player across all major devices, platforms and browsers – both in browser and native environments without the need for plug-ins. The Universal Player is pre-integrated with leading solution components across the video ecosystem including streaming, analytics, DRM and content monetisation to remove the complexity of service development.
We understand that you want to create a unique experience for your customers, and our THEO experts are available from the inception of the solution through its evolution with innovations over time. At THEO we have the expertise to power some of the biggest publishers, broadcasters, telcos, and digital natives across the world, and we are ready to help you.
Want to know more about our multi-award winning THEOplayer, Universal Video Player Solution?