THEOplayer is proud to announce it is a nominee for this year's Belgian Scale Up of the Year award. This award recognizes a Belgian company that has seen an outstanding growth in the previous year and is further looking into becoming a global industry leader in their market. The winner will be awarded during the Tech Startup Day 2017 that will be held at The Egg in Brussels on March 9th.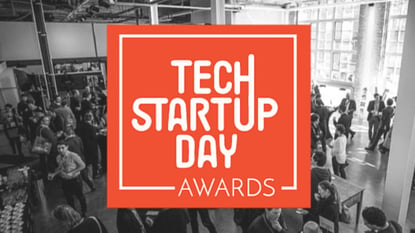 The THEOplayer team appreciates your vote
Voting for the Scale Up of the Year Award is open to the public during the weeks leading to the conference day. Last year, the conference hosted over 1,000 participants from all across the whole Belgian tech sector. To vote for THEOplayer as this year's Scale Up of the Year, follow this link: http://techstartupday.be/awards/. Voting is open until March 6 at noon.
We are excited to be nominated in the Scale Up of the Year category, as one of the most promising and fast growing technology companies in Belgium, said Steven Tielemans, CEO of THEOplayer.We consider this nomination as a confirmation of our potential to disrupt the global market of online video. During the last year we managed to sign up customers from all over the world, including some renowned names such as Twitter, Telenet, CNN, NBC, VRT, Swisscom and Softbank. We are looking forward to leverage our current market advantage, and realize our international growth ambitions.
About Tech Startup Day
Tech Startup Day is organized by Startups.be, a consortium of over 70 Belgian organizations actively supporting starting tech entrepreneurs, and is the one-stop shop for Belgian tech entrepreneurship. With the entire startup scene present, Tech Startup Day is the Belgian must attend event for all tech entrepreneurs & corporate innovators, providing you with inspiration, hands-on examples and testimonials and lots of relevant contacts allowing you to take your entrepreneurial project to the next level.
To check all the capabilities of our player please visit our demo zone page.