5 Ways Your Business Will Benefit From Our New Hassle-Free Licensing Plan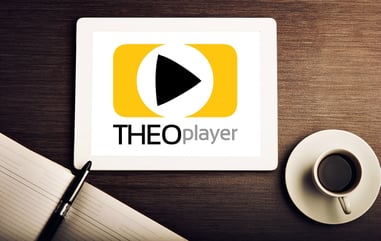 I'm happy to announce that as of this week video industry professionals can buy the THEOplayer Pro license through our website. You can check all features right here.
There is no longer a 48-hour order processing time. You just choose your monthly or yearly plan, fill out your credit card information and get your license. The automatic renewal and payment impacts your business continuity positively.
Here are some of the ways your business can benefit from the easier access to our PRO license:
---
IT INCLUDES EVERYTHING YOU NEED TO GET STARTED WITH STREAMING IN HTML5

We have put together the THEOplayer Pro license plan with special attention to what we think most mid-sized video publishers require when they look for a truly robust adaptive video streaming player with no plugins.

HLS support means you get playback on all major platforms such as iOS, OS X, Android and Windows 10. It also means you can provide Video on Demand as well as Live Streams and you get a live DVR window.

As for the playback features, the list is really long. Some of the major features are slow motion and high speed playback, frame accurate seeking, Chromecast support and WebVTT Subtitles and Closed Captions.

With THEOplayer Pro, you'll also be able to use basic advertising integration with banners and overlays, while our cloud-hosting means you don't need to get stressed about self-hosting. Encryption is provided as well with the AES-128 protocol.

IT'S BUDGET FRIENDLY

"We want the best, so let's get the cheapest" said no one ever. But thanks to THEOplayer Pro, our industry-defining video player based on HTML5 is available to more businesses than ever. We realize our Enterprise plan is not suited for everyone, so the Pro license nicely fills that gap with what we think is amazing value-for-money without competition.

The Pro license makes accessible the power of our HLS & MPEG-DASH streaming player to a wider group of users and we think that is a great thing! We won't stop until every video publisher and streamer, big or small, has world-class streaming player technology at their disposal.

YOU GET 100K IMPRESSIONS

The THEOplayer Pro license guarantees you up to 100.000 impressions per month. We believe that's quite enough to serve a nice audience with this and a majority of video industry professionals will be happy with this.

In case you use more impressions than included in your license plan, you will pay an overage fee of just €0.75 per extra 1k impressions.

THE PROCESS IS STREAMLINED

For our Enterprise license, we typically need to talk to you to fine tune every little detail such as the number of impressions, DRM and other custom feature requests before you can start using THEOplayer.

While the Pro license forgoes some of that customization, it more than makes up for it in the ease of access from payment to deployment of our industry-defining adaptive HTML5 video player.

All you need to do is purchase it and you can start using THEOplayer almost instantly.

IT RENEWS AUTOMATICALLY

If you're looking for a premier online video solution and "set it and forget it" is your preferred modus operandi, then the Pro license is exactly for you. Smaller teams with bigger workload will also like the low maintenance nature of this plan.

No need to worry about the expiration or sending us the payment details – whether you opt for the monthly or yearly plan, we will gently remind you of the pending renewal via email and then simply charge you for the next period.
---
Visit our solutions page to learn get more in-depth insight about all the advanced aspects of THEOplayer, drop by our Demo zone to see our player in action or simply get started with your Pro license right away and let us take care of everything. If you have more questions, feel free to contact us.
---