Deloitte announced that THEOplayer is one of the technology startups that has been nominated in the Rising Star category of the Deloitte Technology Fast50 competition. There are two awards in the Rising Star category: Most Disruptive Innovator and Rising Star. The winners will be announced during the Deloitte Technology Award Ceremony on November 18, 2015 in the ING headquarters in Brussels.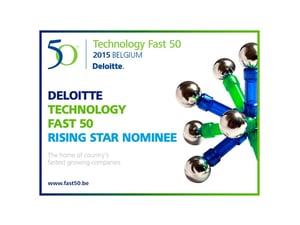 In the Rising Star category, all applications are judged for their turnover potential, scalability and innovative capabilities during a pitch presentation in front of an independent jury chaired by Duco Sickinghe, CEO of Fortino and former CEO of Telenet.
The nominees for the Rising Star award also compete for the Most Disruptive Innovator award. This award recognizes companies that have developed a product service which makes very high-end technology accessible for wild application and use.
Known as post-incubators, Rising Stars have the potential to develop into successful companies that stand out from their competitors.
You need to have plenty of guts and determination to set up a company these days, said Nikolaas Tahon, managing partner Deloitte Accountancy. Rising Stars know how to convert threats into opportunities and turn them to their advantage. That requires innovative strength, strategic insights and pure entrepreneurship.

We are excited to be nominated by Deloitte in the Rising Star category as one of the most promising technology companies in Belgium, said Steven Tielemans, CEO of THEOplayer. We consider this nomination as a confirmation of our potential to disrupt the global market of online video. With THEOplayer our team developed a unique product for online video publishers. THEOplayer is the only video player that can guarantee cross-platform video playback without the need for plugins such as Flash or Silverlight. Now that browsers like Chrome, Firefox and Edge increasingly limit their support for plugins, we have found a huge market opportunity at just the right time. Over the last months, we managed to sign license deals with customers from all over the world. We are looking forward to leverage our current market advantage, and realize our international growth ambitions.
About the Rising Star Award

The Deloitte Technology Fast 50 competition is an annual selection of the 50 fastest growing and innovative technology companies headquartered in Belgium. Public or private companies who develop a technology related product or service and who have experienced substantial revenue growth over the last four years can enter the competition for their chance to be nominated as one of the 50 fastest-growing technology companies in Belgium.
Companies that have been active in the technology sector for less than five years can participate in the special Rising Star category of the competition. These companies are judged by an independent jury on their turnover potential and scalability.
Participating in the Deloitte Fast 50 competition can help companies to develop their business by increasing their visibility and giving them access to the Fast 50's unique network of highly successful executives.
About THEOplayer
THEOplayer, the world's most comprehensive HTML5 video player for streaming content on the web. With THEOplayer, video publishers can use a single video player with a single streaming protocol to reach all the different popular platforms and devices. It removes the need for plug-ins such as Flash or Silverlight, or streaming video content with multiple protocols, and dramatically simplifies distributing video content online. THEOplayer is a fast-growing company, located in Leuven (Belgium), with a global customer base. For more information on THEOplayer visit www.theoplayer.com.
---