THEOplayer has been named the Best Video Player Solution/SDK in the 2016 Streaming Media Europe Readers' Choice Awards, leaving behind runners-up Bitmovin Adaptive HTML5 Player and Castlabs DASH Everywhere & Videoplayer SDKs.

Based solely on the votes by users, customers and readers, the Streaming Media Readers' Choice Awards honour the best of the best among online video companies mainly headquartered in Europe.
We are extremely honored by THEOplayer receiving the first place among such highly esteemed competition. Make no mistake, we made it because we have the support of our satisfied customers, who seem to overwhelmingly agree that THEOplayer is the true leader among the business video player solutions out there. For this, we are deeply thankful, said Steven Tielemans, the CEO and co-founder of THEOplayer.
What makes this award win that more special, is the fact that THEOplayer is a relative newcomer to the industry and as such, has managed to considerably shake up the scene for the incumbents and break new ground among video players for business in a very short time span.
Within THEOplayer customer base are companies such as NBC, Nasdaq, Swisscom, Telenet, Periscope of Twitter, Ericsson, Cisco, France Télévisions, Telia, and the UK Parliament.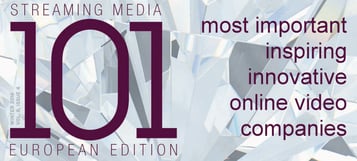 The excellent news comes hot on the heels of another high-profile recognition from the Streaming Media magazine. THEOplayer has been placed among the Streaming Media 101 Europe - the fifth annual list of the most interesting, important, and influential companies in the online video space with an emphasis on Europe.
THEOplayer, the leading HTML5 based video player, is delivering a world-class viewer experience with no plugins. THEOplayer offers a HLS and MPEG-DASH player fully in HTML5. It removes the need for plug-ins such as Flash or Silverlight, or streaming video content with multiple protocols.
THEOplayer has proven compatibility with industry-leading solutions for streaming, DRM and Dynamic Ad Insertion. It dramatically simplifies distributing video content online. Contact with one of our video player specialists to find out how you too can upgrade your viewers' experience to the world-class level.