The votes are in... THEOplayer is awarded as the Best Video Player Solution / SDK in the world during the Streaming Media Readers' Choice Awards! The contest drew this year a total of more than 37.000 votes by readers of the magazine. The winners in the different categories were announced at the award ceremony last week during Streaming Media West at Huntington Beach, California. This is another great milestone for THEOplayer, after winning earlier this year already the European Readers' Choice Awards.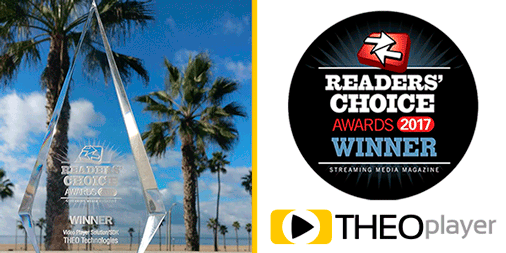 We are extremely honoured to receive this great award by the readers of Streaming Media Magazine. We would like to thank everyone who voted for us and will keep pushing boundaries to ensure we remain as well in the future the most advanced, performant and innovative video player on the market, said Steven Tielemans, Founder and CEO of THEO Technologies.
THEOplayer is at the forefront of the player industry. As one of the only truly dedicated player companies in the market, our Universal Player capability built in HTML5 provides a single player across all major devices, platforms and browsers – both in browser and native environments without the need for plug-ins. The Universal Player is pre-integrated with leading solution components across the video ecosystem including streaming, analytics, DRM and content monetization to remove the complexity of service development. We power the video services for some of the biggest video publishers in the world covering all industry segments and regions.
Would you like to have the chance to test our award winning Universal Video Player yourself? Simply contact our team of experts and they will guide you on how to do it.
Please visit www.theoplayer.com or contact us via email contact@theoplayer.com to learn more.