What is the current state and future of VR and 360° video? On Tuesday April 11th, our CPO Maarten Tielemans presided the webinar: "VR and 360° Video beyond the hype" organized by Streaming Media. The event included key people from Broadcasting Companies, Telcos and Media Companies from all over the world. Over 500 people subscribed to the event and more than 150 people attended the actual webinar. The industry is clearly ready to learn more about this subject.
Are companies already delivering VR or 360° video?
During the webinar two questions were asked to the audience. The first question was: "Are you currently delivering VR or 360° video?" Let's have a look at the answers below:
From the results, it appears that over 25% of the participants is currently delivering either 360°, either VR or both. Given the technology is so fresh and new, we were delighted about the high percentage of the attendees already actively creating and sharing VR and 360° videos.
Impediments to the rollout of 360° and VR videos.
With 25% of the participants currently implementing VR, what is the biggest impediment to the rollout of VR and 360° video?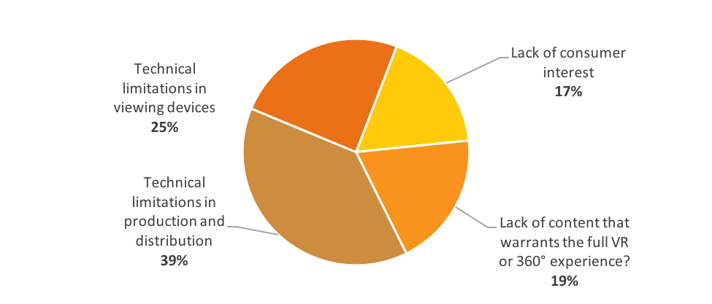 Almost 40% of the attendees responded that the technical limitations in the production and distribution of the content was limiting their adoption of VR and 360° video. On the other hand, about 20% of the attendees has difficulties with finding the correct content while 25% is waiting for more consumer with devices that can support the new technology. A rather limited amount of people, keeping in mind the failure we've seen with 3D video, is skeptical about the consumer interest (17%) and see it as an impediment to invest in the technology.
VR and 360° video moving forward
Will VR and 360° video become the next big thing? That's a question we can't answer for you, but when looking at the industry leading companies (Facebook, YouTube, CNN, Twitter, …), they are already embracing this new way of immersing viewers in their content.
Looking at the VR and 360° content of one of our customers, CNN, it is clear VR and 360° videos have a clear advantage when it comes to storytelling and transporting viewers into content.
When it comes to the technical impediments of delivering VR and 360° video, there are companies, such as THEOplayer, that can help you move forward.
Our THEOplayer team is ready to guide you through all your challenges. Please feel free to contact us and offer your viewers a world class video playback experience.