NetOn.Live integrates THEOlive: fully remote E2E production and delivery workflow in 2 sec
by Bart Snoeks on September 6, 2022
In a new collaboration, NetOn.Live, THEO Technologies, and Panasonic have together developed an integrated end-to-end remote production workflow, tailored to today's production needs.
LiveOS by NetOn.Live is a modular private cloud software platform that enables local, remote, and decentralized live media production. In LiveOS, functionalities that are traditionally found in dedicated hardware devices are now software modules that run on generic IT servers. LiveOS is SMPTE 2110-based using uncompressed Video over IP network. Its very low latency and multitude of functionalities, supported workflows and 3rd party integrations make LiveOS the go-to software platform for professional high-end live media production.
The workflow uses the internet and the cloud for contribution, production, and distribution, offering an extremely low glass-to-glass latency of 2 seconds.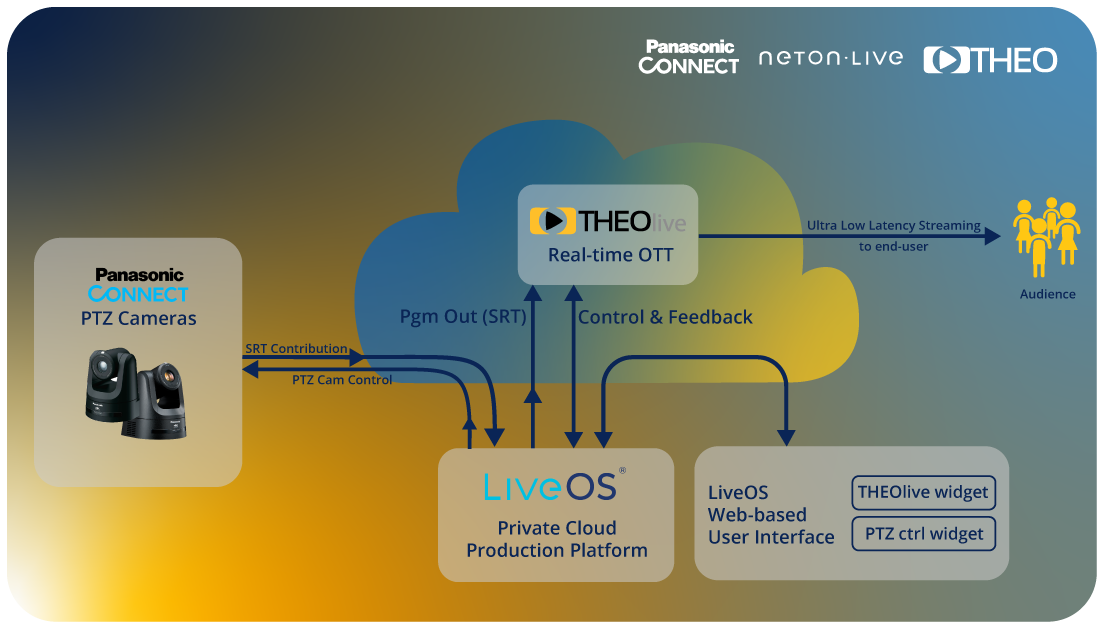 With Panasonic's PTZ Cameras, the NetOn.Live LiveOS software platform for live media production, and the THEOlive real time OTT streaming solution, live production can now be delivered "as a service" to anyone who wants to start producing high-end live multi camera content including direct delivery to their audience.
Leverage the internet
Connected to the internet, the cameras, operators, and viewers can be located anywhere in the world. Operators don't need to travel to the event location, as the camera content is sent to the LiveOS production platform in SRT. The operators manage the full workflow, from contribution through production to distribution, within the LiveOS interface. This gives the operators a unified experience and dramatically lowers the complexity of the workflow.
They remotely control the Panasonic PTZ cameras, using the PTZ Control widget for adjusting, storing, and recalling PTZ positions, focus, and shading. THEO Technologies' ultra low latency streams can be initiated, monitored, and stopped, using the THEOlive Streaming widget of LiveOS.
The LiveOS interface is accessed via a web browser, using a secure VPN connection.

The 2-seconds glass-to-glass latency including camera ingest, production and delivery to the viewer makes this workflow perfect for time-sensitive productions, such as live news, sports, e-sports, auctions, education as well as sports betting. OTT Viewers across the globe can watch live events in an almost real time fashion, wherever they may be watching.
NetOn.Live and THEO will be at IBC 2022
The remote production workflow is demonstrated during IBC 2022 on the NetOn.Live booth 10.D15, in hall 10, RAI Amsterdam.
To know more about THEOlive's capabilities during IBC 2022, plan your visit. (THEO booth 5.A67) Or contact us digitally to see how THEOlive can jumpstart your real-time video services to any number of viewers simultaneously.