We are proud to announce that THEO Technologies has won the 6th edition of Belgian Deloitte's Technology Fast 50 Award in the Media and Entertainment Category for the second year in a row. This annual competition rewards Belgian companies who develop a technology product or service and earn a substantial revenue growth over the last years. We are honoured to be recognised among many others who serve as drivers of growth and disrupters in the industry.
An Outstanding Growth of 1730.72%
With a growth of 1730.72%, THEO Technologies is the fastest growing technology company in the Media and Entertainment Industry in Belgium, and overall the 5th fastest growing tech company in Belgium. In September, THEO Technologies was also recognised as the 47th fastest growing company in Europe for 2018. This growth attributed to the hard work and commitment of the entire THEO Technologies team.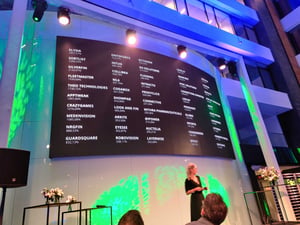 Being recognised once again as the fastest growing tech company in the media and entertainment space is a great achievement for our team, and a reward for the amazing work over the last few years. We are very excited to receive this award and are proud to be part of a select group of fast-growing Belgian technology companies conquering the world, said Steven Tielemans, Founder & CEO of THEO Technologies.
Disrupting the Video Industry
Our THEO experts are continually growing and improving the suite of products to deliver exceptional video experiences across any device, with an expansive range of THEOplayer SDKs, pre-integrations, features and formats supported. Our team in the Innovation Lab at THEO Technologies developed our new High Efficiency Streaming Protocol (HESP). You can find out more about the new protocol here. We are proud to play such a crucial role in the video ecosystem and we understand our responsibility to keep innovating.
Growing Ambitions
THEO Technologies is a company of more than 85 people, and counting, who have enriched our team of THEO experts and improved the product, placing THEOplayer to where it is today. This exponential growth led to a global customer base, which covers all industries and segments, including some of the largest global media companies.
THEO Technologies can count on an extremely experienced and innovative team of video engineers that are on a mission to further improve our product every day in order to allow media companies to offer the best possible video experience to their viewers. We cover all industry segments and regions, and we are committed to being not just a vendor, but a solution life cycle partner. THEOplayer, our Universal Player provides a single player across all major devices, platforms and browsers.
This prize is the result of the hard work of our team and the continuous collaboration with our customers, which resulted in this important award. We wouldn't be here without our colleagues, customers and partners. This reflects in the fact that THEOplayer can today proudly claim the position as best online video player solution in the market and that our customers keep choosing us when they want to deliver the best possible video quality to their viewers on every device and platform. We are looking forward continuing our exciting journey in the coming years. - Steven Tielemans said. With this recognition THEO Technologies keeps growing as indisputable front runner of the industry.
About the Deloitte's 2019 Technology Fast 50
The Technology Fast 50 competition is an annual selection of the 50 fastest growing and innovative technology companies headquartered in Belgium. Public or private companies who develop a technology related product or service and who have experienced substantial revenue growth over the last four years can enter the competition for their chance to be nominated as one of the 50 fastest-growing technology companies in Belgium.
Companies that have been active in the technology sector for less than four years can participate in the special Rising Star category of the competition. These companies are judged by an independent jury on their turnover potential and scalability.
Participating in the Technology Fast 50 competition can help companies to develop their business by increasing their visibility and giving them access to the Fast 50's unique network of highly successful executives.
We understand that you want to create a unique experience for your customers, and our THEO experts are available from the inception of the solution through its evolution with innovations over time. At THEO we have the expertise to power some of the biggest publishers, broadcasters, telcos, and digital natives across the world, and we are ready to help you.